HAD, Inc. offers a wide variety of drilling services for the environmental, geotechnical, water well, foundation, construction, and oil and gas industries. View a Sample of Projects
We started our journey into the environmental and geotechnical industry in 1994 with a CME 75 and a workforce of 3. It has been an eventful journey to say the least over the past 22 years trying to keep up with trends, technology, and the ups and downs of the industry. We have always stayed true to our bread and butter which is hollow stem auger drills and direct push services. Although HAD has continued to grow each year and is no longer the small family run business it once was, all of the family members are still here answering the phones and running the day to day operations. We pride ourselves on offering safe, professional, and cost effective solutions to your project needs. We want to make sure you are completely satisfied with every project we complete because 90% or more of our business is either repeat customers or by word of mouth. We cannot guarantee if you will hit water, how much water, or the quality of that water, but we can guarantee your 100% satisfaction. If you are unhappy with any part of our service we will make it right. As you read through our web site, if you don't see something or have questions use the "Ask Todd" application. We are available to answer your questions or schedule our services 24 hours a day, 365 days a year. We hope you will use HAD for your next project, but if you don't at least give us an opportunity to provide a quote. We will probably not be the cheapest proposal, but we are a firm believer that you get what you pay for. Thanks for visiting and hope to talk to you soon.
Our crews are licensed in the following states:
Ohio

•

Pennsylvania

•

Michigan

•

Indiana

•

Kentucky

•

New Jersey

•

Maryland

•

West Virginia

•

Virginia

•

Tennessee
---
Our crews are certified with the following state and national organizations:
STATEMENT OF QUALIFICATIONS 2016
The company is a third generation family owned drilling business founded in 1982. It started as a water well drilling business and evolved into an oil drilling company in the early 80's. In the mid 90's the company changed direction and entered into the environmental and geotechnical industries. The company has continued to grow and has once again entered into the oil and energy markets. We currently employ over 150 people and operate more than 10 drill rigs, heavy equipment and numerous trucks. We have many in house services including our own service department, fabrication facility, and hydraulic hose replacement and repair to mention a few. We also have our own in house health and safety department/officer. We are qualified to work for companies such as Shell, Chevron, ExxonMobil, CONSOL Energy, Hess and many more. We operate a fleet of late model well maintained trucks and equipment suited to tackle any project. Our capabilities range from small direct push machines up to large diameter dual rotary drills capable of installing casing 40" in diameter. Some of our services are listed below…
---
Ask Todd!
Have a question about services or your next project?
Todd would be happy to discuss your project with you!
Email Todd
---
Dedicated to Safety
&

Performance!
All of our equipment & trucks are monitored with a gps system sends us notifications for maintenance and also tracks our drivers for speed and unsafe driving!
It also allows us to get real time location data to assist crews in locating remote sites or connecting with clients.
Drilling Rigs
2013 CME 55 LC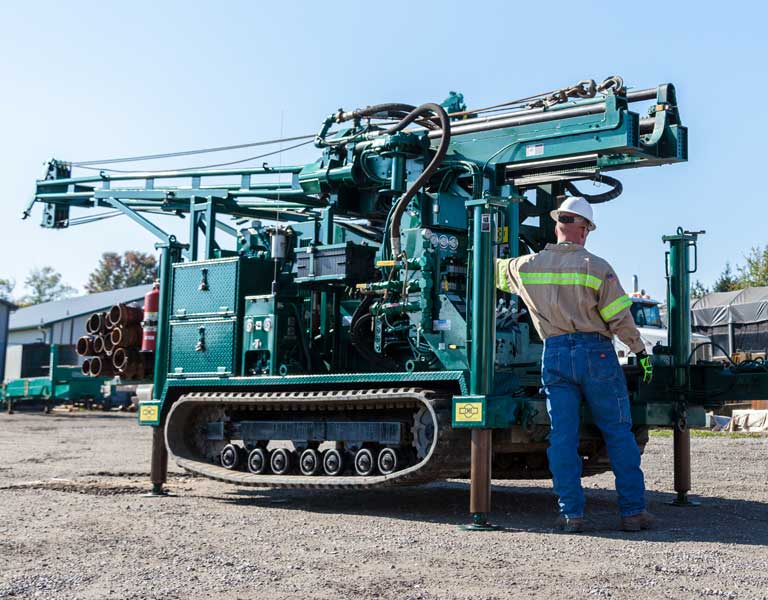 The CME 55LC has a unique feed and retract system and a quick disconnect mast that allows you to work under service canopies, bridges and other overhead restrictions. The overall working height with the mast disconnected is only 12 feet. The drill has all the power and productivity of a full sized CME 55 as well as all of the options for working in a safe and efficient manner. Specifications for this drill are listed below…
Specifications
---
Track width – 18"
Average ground pressure 4.4 PSI
360 degree turning radius
Remote controlled guidance
CME safety shut down system
15,000 lb front winch
Able to traverse a 50% grade
9400 foot pounds of rotary torque
28,000 pounds of retract force
19,750 pounds of pulldown force
Unit is 7' 4" wide, 15' long and 8' 11" tall in the travel position
Working height with the 20' mast assembly is 23'
Drill can accommodate up to 10.25" hollow stem augers
Easily transitions from auger to air or wash rotary
Utilizes down hole hammers 4" thru 8"
3 winches and a wireline winch for rock coring
140 pound automatic hammer for safe sampling operations
Moyno 3L6 water / mud pump
Hydraulic rod holder and breakout assembly for safe rotary drilling
Rod and auger storage
GEOPROBE 7822 DT
The Industry Benchmark for Direct Push Equipment. The GEOPROBE 7822DT is designed with dependability, expandability, and performance in mind. It will help you adapt to changing work roles whether you're focused on environmental, geotechnical, or exploration work. Specifications for this drill are listed below…
Specifications
---
60-in. Direct Push Tooling
Probe Rod Sizes: 3.75 in., 3.5 in., 3.25 in., 2.25 in., 1.5 in., 1.25 in.
Direct Image® Tooling
Macro Core® MC5 Soil Sampling (2.25 in. x 5 ft.)
DT22 Soil Sampling
DT325 / DT35 / DT375 Dual Tube Soil Sampling
SP22 Groundwater Sampling
SP16 Groundwater Sampling
2.0 in., 1.5 in., 1.0 in., 0.75-in. Prepacked Monitoring Well Installations
DH103 Auto Hammer for SPT
4.25 in. and 6.0 in. H S A System
Direct Push Machines
GEOPROBE 7730 DT
The Geoprobe 7730 is a larger direct push unit capable of utilizing our new 3.75" dual tube sampling system for the installation of 2" pre-packed monitoring wells. It also has other smaller sized dual tube systems for standard soil sampling applications. The unit is also capable of spinning hollow stem augers should the need arise. It is equipped with the powerful GH62 hammer with 20 tons of pulling capacity. The specifications are listed below…
Specifications
---
77" probe cylinder stroke
Weight 10,500 lbs
In the travel position the unit is 78" wide, 144" long, and 102" tall
In the working position the unit is 184" tall
Up to 4,000 foot pounds of torque on the auger head
Unit is able to carry 50 gallons of fresh water on board
Unit has its own pressure washer for easy clean up
A fold down work table makes examining samples, etc. easy and ergonomic
Remote operation of the tracks makes maneuvering effortless and safe
Installation of 2" pre packs gives our clients a true 2" well with little or no waste generated greatly reducing disposal costs.
Emergency shut down system
GEOPROBE 54 LT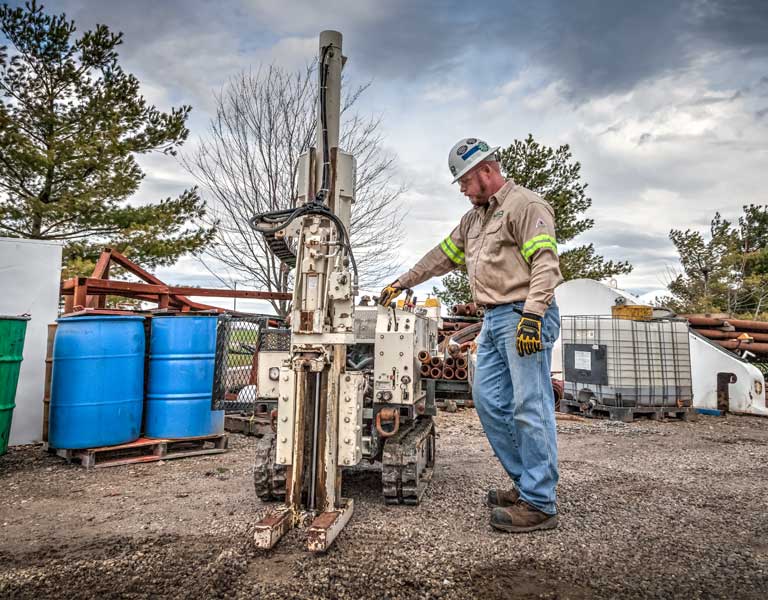 The 54LT is small, but a very effective tool for site investigations. The unit is able to sample to depth of 30' or greater depending on soil conditions. It is also small enough to fit through a standard 36" doorway and drill through a concrete floor. The unit also has a small cart that it can be set on and pushed or towed around indoor facilities to help eliminate potential fumes generated by the diesel engine.
Specifications
---
Stroke 54" (for use with 48" tooling)
Travel position 34.5" wide, 87" long and 64" tall
The unit is 123" tall in the working position
Unit weighs 2,715 pounds
Has a tried and true Geoprobe GH42 hammer assembly
Tethered remote tracking operation for tight clearances
Safe and dependable operation
VACMASTER 4000 VACUUM EXCAVATION UNIT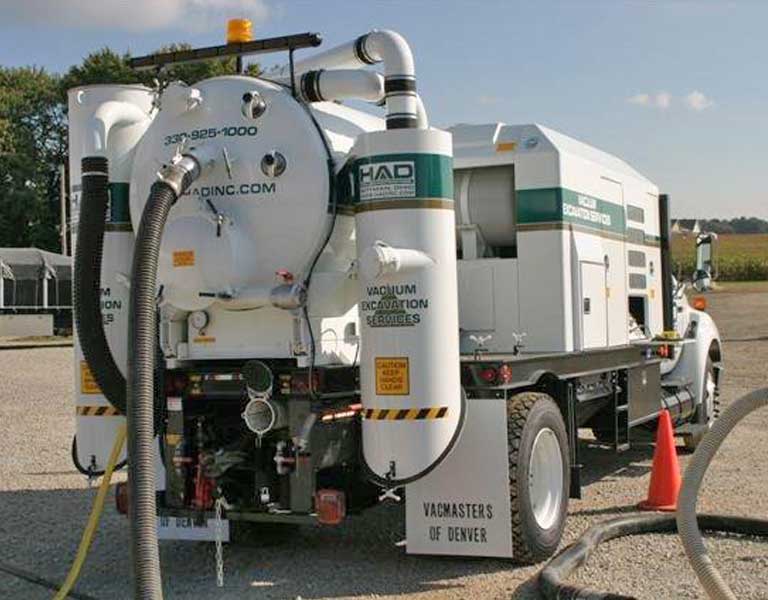 For pre-clearing borehole locations there is no substitute for the Vacmaster 4000. It utilizes high pressure air not water to excavate the soil which greatly reduces the potential for damage to underground utilities, etc. Its 1000 CFM vacuum is one of the most powerful units on the market allowing the retrieval of large cobbles and debris from the borehole. By simply adding more hose and our drum top interceptor you can operate up to 200' from the unit allowing you more versatility on difficult access projects. Since the unit utilizes air and not water there is no mud to dispose of, the spoils can simply be placed back into the borehole and compacted with the on board tamper. This allows for opening of the hole at a later date is desired. It also eliminates the need for extra fill material and the presence of an open borehole on your project site. Some specifications are listed below…
Specifications
---
Vacuum = 1000 CFM
Air Lance = 220 PSI
Aux air tools such as jackhammer and tamper
Fully supervised safety shut down system
Length 27' 6"
Width 8'
Height 10' 10"
GVW 25,900 lbs (non CDL)
Work lights and traffic beacons
500 gallon spoils tank
85 gallon water tank for use of the pressure washer for easy clean up
ADDITIONAL SUPPORT EQUIPMENT
---
2019 International box truck with hydraulic lift gate
2016 Kenworth Box truck for transporting the Geoprobe 7822 DT
14+ ford f 350 4x4 trucks
2 – ford f600 support trucks with 24' tarped beds

Carry a weeks worth of well supplies
Keeps all material dry

2 – ford f800 support trucks with 30' tarped beds

Carry a larger amount of well supplies for bigger projects
Keeps all material dry

Marooka 600 atv support vehicle

Cant get a truck to the rig, now we can carry drill tooling and supplies to even the most remote areas

Kenworth water truck

2200 gallon water capapcity
5 ton crane
Geo loop grouter
Welder and torches
Full drill rig support

International "rig buddy" water truck

900 gallon water capacity
Flat bed area for well supplies, etc.
Able to haul 5 members of a drill crew

3 roll back trucks

Safely and efficiently hauls drill rigs to the project site
Eliminates the need for a trailer
Deliver rental equipment to project site reducing mob fees

2 – mechanics ttrucks for prompt repairs on site
Tri-axle dump truck
6+ tractor trailers
4 cat 960 front end loaders
4 cat telehandlers
4 cat skid steers (1 on tracks)
Cat fork lift
2 – decontamination trailers

No need for a decon pad
Contains all waste fluid for easy disposal

3 – 400cfm / 200 psi air compressors

Eliminates rental fees
High pressure capability to operate down hole hammer drills
Onboard drill rod and down hole hammer storage
Larger compressors available upon request
Example Projects
LARGE DIAMETER WATER WELL
H.A.D., Inc. was contracted to drill large diameter water well to supply a restaurant / gas station with a potable and sustainable water source. Due to contamination and space limitations the new well had to be located on the other side of a state route that the store is located on. The water bearing zone is small and does not produce more than 5 GPM in most areas. We were task with drilling a well that would offer excellent protection from surface contamination as well as providing as much water as possible for the stores operation as there space for on-site storage was already limited. We drilled a 20" diameter boring to 45' below surface (rock was encountered at 10') and installed 20' of 20" steel casing as we drilled to case off the overburden portion of the bore hole. Once we reached 45' we then installed a 16" diameter steel casing and cemented it to surface to protect the aquifer. Once the cement cured we then drilled a 16" diameter bore hole to a depth of 160'. We knew from previous borings that salt water was encountered past 180'. This well didn't yield more than other wells in the area, but we did create over 1000 gallons of usable reservoir for the store.
PIPELINE PROJECT
H.A.D., Inc. was contracted to perform test borings at HDD locations along the proposed route for a new natural gas pipeline extending from Hopewell, Ohio to Philadelphia, PA. This encompasses approximately 450 miles and over 1000 boring locations. The work was divided up into 3 zones. Zone #1 extended from Hopedale, Ohio to the Ohio River, zone #2 extended to Harrisburg, PA and the final zone ended in Philadelphia. Crews worked a 10 day on 4 day off rotation and had to mobilize back and forth between the three zones to satisfy the client's needs and as access agreements were finalized. Had and their client worked together very efficiently as coordination was crucial to keep the project on schedule. Crews for the client would survey and stake the boring locations, HAD would then call in for utility mark outs and schedule on site meetings as needed due to many of the locations being adjacent to existing large diameter high pressure gas lines, propane lines and fiber optic communication lines. Crews had to deal with extreme weather conditions, swamps and stream crossings, upset private land owners, and steep / uneven terrain. Our client is very impressed and pleased with the coordination of the project and the safe and professional crews we used on the project.
MONITORING WELL INSTALLTION / VAPOR POINTS AND TEST PITS
H.A.D., Inc. was contracted to mobilize an ATV Drill rig, an ATV Geoprobe and a track hoe to a high profile site in central Ohio. Numerous monitoring wells were set at depths ranging from 80' – 100' below ground surface in a heaving sand formation. Drilling conditions were challenging as we drilled through sand and gravel deposits with some gravel the size of softballs or larger and then into a fine sand aquifer with quite a bit of hydrostatic head. Drillers had to be very patient and take their time installing these wells but had a very good success rate at hitting their targeted depth. The Geoprobe was used to sample numerous locations both inside buildings and in wooded terrain. On the second mobilization we installed nested vapor points at numerous locations. These vapor points were installed at as many as 3 different intervals within the same borehole saving our client a great deal of time and money. Finally our crews utilized our CAT 320 excavator to dig test pits in and around the impacted area and reclaimed the site to its original condition.
WATER WELLS FOR MARCELLOUS WELL PADS
H.A.D., Inc. was contracted by a producer to drill water wells on their existing well pads to feed water to their drilling and fracking programs reducing the amount of water that would need to be hauled in. HAD crews mobilized a Versa Drill 1000 rotary drill and a support truck with a crane, welder and water bed. The scope for most of these locations called for us to drill a 10" diameter boring to approximately 100' and cement a 6" diameter steel casing to surface. After the cement was allowed to cure the crew would then drill a 6" diameter bore to 400' and develop the well. These wells were completed in two days only because of the cure time for the cement. One well was drilled from 60' to 400' in about 3 hours. With the automated drill pipe handling system this was performed both safely and efficiently.
LARGE DIAMETER MULTIPLE CASED WATER WELL
H.A.D., Inc. was contracted to drill a large diameter water well in northwest Pennsylvania. The crew utilized a Dual Rotary DR24 drill rig to drill and set multiple sections of casing for this well. The crew drilled and cased simultaneously a 20" diameter bore hole to 60'. Then they installed a 16" diameter casing to 60 feet and cemented the annulus as the 20" casing was removed. The next day the crew drilled a 16" diameter borehole to 120' and cemented a 12" diameter steel casing. The next day the crews finished the well by drilling a 12" diameter borehole to 180'. The reason for the multiple casing was to case off multiple aquifers. The middle aquifer was a void space that produced as much as 750 gallons a minute (GPM) The crew successfully cased the other layers off and pump tests proved our casings were installed correctly.
PACKER TESTING
H.A.D., Inc was contracted to drill multiple locations at a contaminated site in Cleveland, Ohio. The site had cavernous or fractured bedrock underlying it and we had to test the rock by performing packer tests and rock coring. Numerous locations were drilled and cored to depths exceeding 100'. A dual stage or straddle packer was then lowered into the bore hole so the client could develop 5' or 10' sections of rock. The borehole then had to be pressure grouted to surface and the crews had to follow strict decontamination and safety procedures.